DTDC Tracking How To ?
Following are the instructions on How to Track your DTDC shipments using Airway Bill Number, Reference Number. DTDC's Airway Bill has a unique number mentioned as Consignment No.
Choose either Airway Bill or Reference Number selection.
Enter your Airway Bill or Reference Number in to the Tracking Box provided.
To track multiple shipments, you can enter up to 25 Airway Bill or Reference Numbers separated by a comma.
After entering your Airway Bill or Reference Numbers click on "Track" button to receive the latest updated status of your shipment.
In case you are not able to find details of your parcel you can contact DTDC customer care directly. Contact numbers can be found at customer care or directly at DTDC Website.
sponsored links
Using our site is totally secure as we are not storing any information/AWB numbers with us. Your last used items are stored on your system using cookies only. Online DTDC Tracking service to track your consignments more easily and quickly. Please note that this is not an official DTDC Tracking website. We are providing extensions to let you track your consignment status easily. Your previously used AWB/tracking numbers will be displayed at the right side of the screen. You can use the right side links to recheck the status when you visit our website next time.
dtdc courier tracking can be done for a period of 90 days from the date of dispatch. You may track the status of the domestic / international shipments by Airway Bill or Reference number. Enter the required Airway Bill or Reference number by using 'Tracking' box on the top, left side of the web page or the Tracking page.
DTDC Tracking Number
DTDC Tracking number starts with Letter and rest are 8 digit number i.e [ AXXXXXXXX ]. While checking status of yout DTDC parcel please make sure that you are entering number in correct format and that without any leading and trailing spaces or extra characters. If you have received a copy of bill from DTDC Executive you can easily locate the Tracking Number of your shipment. Docket No./ Consignment No. / AWB No. / Tracking No. is available at the right section of the bill. Your bill should match the below image. Tracking number is encirled with red line.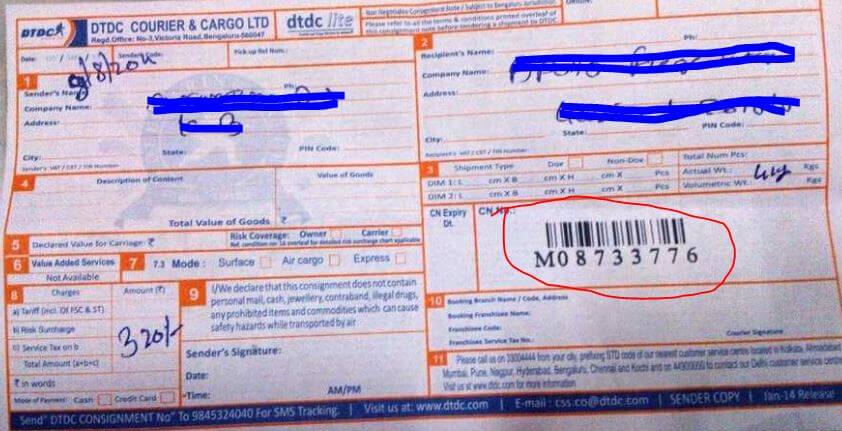 Where To Find Tracking Result?
After you enter a valid tracking number in about search box you will receive tracking status in below format showing detail of your consignment and current status of delivery.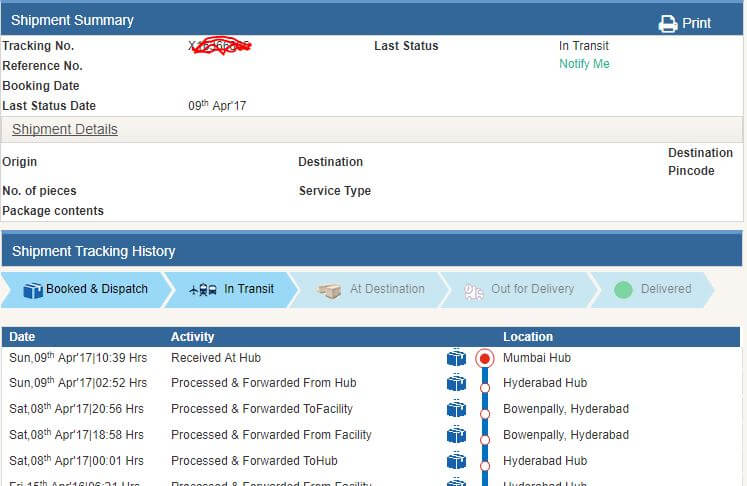 sponsored links
Goods & Services Offered By DTDC
There are certain restrictions in the type of goods which can be sent by DTDC Courier services. DTDC follows guidelines of IATA and doesn't allow certain items to be sent by courier service. For list of such items check restricted items page or visit DTDC website for restricted items list.
DTDC services should be available for Kolkata, Hyderabad, Patna, Nagpur, Chennai, Bangalore, Mumbai, Delhi, Lucknow, Jaipur, Pondicherry, Allahabad, Ahmadabad, Amritsar, Bhopal, Bhubaneswar Calcutta, Calicut Chandigarh, Cochin, Pune, Noida, Trivandrum, Madurai, Trichy, Gurgaon and other cities. To get the details of pricing and delivery time please visit www.dtdc.in company website. You can visit customer care section to get details of customer care centers across cities in India.
DTDC Discussion Forum
For more information about DTDC courier services or DTDC Tracking you can visit DTDC forum
sponsored links